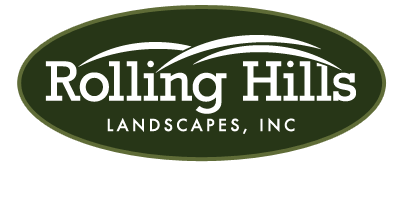 Reviews
At Rolling Hills Landscapes, we have earned our first-rate reputation for designing and installing the most appealing Hardscaping and Outdoor Living projects in greater Pittsburgh and surrounding Cities. Our ongoing commitment to installing the highest quality products, along with unmatched customer service has propelled us to become the leading provider of Hardscaping and Outdoor Living services. We are committed to high quality craftsmanship and professionalism. We strive to give our clients not just the best customer service but the very best customer experience. Our goal is to cultivate a lasting relationship with our customers. We rely on our customers for reviews and referrals and will do what it takes to earn them. Below you can see just some of these positive testimonials from our highly valued clients.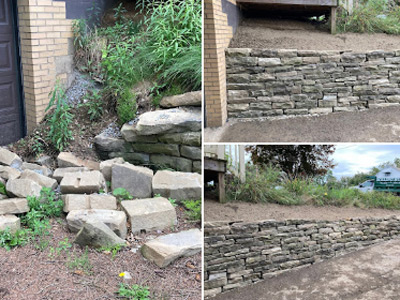 January 2023
Our old stone retaining wall had fallen, and Rolling Hills rebuilt it for us. We were very happy with their work. Communication was clear, detailed, and timely. Everyone I talked to was friendly and professional. The wall turned out great. They did a really nice job.
~ Heather Jedrus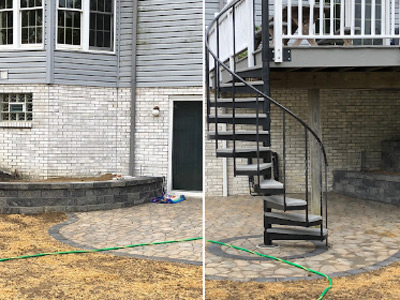 December 2022
Rolling Hills Landscaping took our vision of the unused rear of our house and created a beautiful paver patio. The patio included not only the installation of the pavers but multiple retaining walls, repair and addition of new drainage lines, installation of conduit for electrical circuits used for lights and speakers and a foundation for the spiral stairs from the deck.
Working with RH from initial contact to the completion was easy peazy. My wife and I would hire them again.
~ David Roof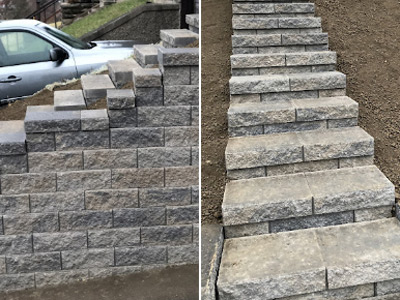 November 2022
I was impressed with Rolling Hills Landscapes from my initial contact and it only got better. My retaining walls were about to collapse into my driveway. Amanda quickly set up an appointment, examined my property, and listened to my concerns. She came up with a plan that provided critical support for an area that will hold a lot of snow in the winter. I also needed a new hillside stairway to my backyard. John & his crew were also timely & hardworking. I researched numerous retaining wall issues & building processes, and observed their work methods as the project went on. They followed required and/or recommended work processes. I know these beautiful walls will carry the load and couldn't be happier with my new stairs!
~ Marsha Shallenberger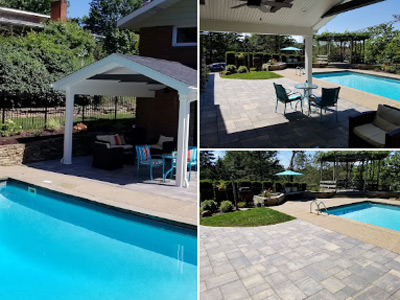 October 2022
Amanda, John and crew are awesome! We used Rolling Hills for a new paver patio in our backyard. The job had some tough access and obstacles. Rolling Hills worked through every issue with me and communication was always there. John and crew DO NOT cut corners. They even had to work with another contractor on-site at our job and there wasn't even a hiccup in the process. Our patio turned out beautiful. We get compliments from everyone who sees it. During the process they had to remove a stacked stone wall for access. This wall was then rebuilt by Rolling Hills to compliment the patio perfectly. I have 0 concerns recommending Rolling Hills to anyone who is need of hardscaping. Thank you, Rolling Hills!
~ Tom Schuetz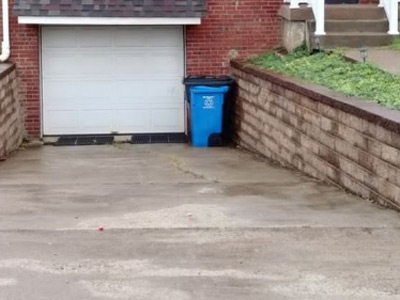 September 2022
I am a year behind in my review of Rolling Hills, but I am so pleased with our retaining walls, I just had to send this review. Amanda's professional contracts and handling of our building permit, as well as John's diligence in taking care of many details during the job, gave us confidence that we had picked the right company, and after a year of living with the new walls, we were right to choose them. Our old retaining walls were about to fall in and they were 4' high tapering from the house along the driveway. There were structural issues (an entrance porch) and drainage pipes to handle and John did an excellent job doing so. The right wall was original to the building of the house in 1949, and the left one had been taken down and was poorly reset when a sump pump drain was added at some time. The left wall had already moved about an inch in the year before we had the retaining walls redone by Rolling Hills. John was on site doing the excavating and then had workers come to help set the new walls in place. He was on site until the project was complete in a week. Amanda dealt with the township's code enforcement officer, and was in communication with me constantly throughout the project. John even moved the new walls in a couple of inches and added gravel alongside the original driveway and in a crack running down the center to make it look better and to leave space for replacement of the driveway in the future. He also redesigned the slope of the walls to have fewer steps which created a better retention and made them look more streamlined. I would definitely use them again.
~ Jan Messmer
August 2022
John and Amanda were absolutely WONDERFUL to work with! They put in a retaining wall in for us 3 years ago and it's as beautiful as the day they installed it. The location of the wall was challenging and the work they did far exceeded our expectations. They were very responsive to any questions or concerns we had. They made great suggestions on how to make the wall match one of our other retaining walls that was installed many years ago. Their price point was extremely fair and materials used were top shelf. We are so very grateful to have had them do the job for us! We HIGHLY recommend Rolling Hills Landscapes!
~ Gretchen Brown
July 2022
Rolling Hills rebuilt the retaining wall around my yard in the Southside Slopes. It was a really difficult job with poor access, and they did an amazing job. Amanda is a stellar project manager, walked me through things every step of the way and was always prompt with updates, questions and quotes. The company was super professional and very courteous in the neighborhood which was a big deal. They walked me through the process the entire way including showing me construction steps, and they did everything by the books, so I'm confident the work will last a long time (and improve the value of my home!). I'm beyond pleased with the results, and all my neighbors are constantly commenting on how good it looks! I would highly recommend them as a smaller company that is really willing to work with you in challenging spots.
~ Cecilia Westbrook
May 2022
Rolling Hills Landscapes is a great company to work with. They were very prompt at returning our initial inquiry. From the first meeting with Amanda, to the completed job, we were very pleased and would highly recommend them. Amanda was always available to answer questions and sent daily text about the progress of the project. John did a beautiful job on the construction and always had our best interest in mind. He suggested an additional layer of block underground to strengthen the wall and combat the natural springs in our yard. I feel that another company would have just proceeded as initially designed and we would have potential problems. John was also very conscientious of our pets. Every night he made sure that our gates were secure so that our dogs did not escape. If we have any future wall projects we will only think of one company to contact: Rolling Hills Landscapes.
~ Ron Orth
April 2022
We love working with Rolling Hills landscaping! They really do call you back . They always work to help us achieve our - often unique - vision. So far they've built two retaining walls for us and one patio. We love how easy they are to work with, how communicative they are, and their high quality work!.
~ Katie Fitzpatrick
March 2022
Rolling Hills was able to get us in fast for an 18'x18' paver patio that turned out amazing. The crew was here early each day and Amanda stayed in constant contact with us throughout the entire process. I would definitely use them again and would recommend them to anyone.
~ Dave J
February 2022
Rolling Hills Landscapes is a 5 star company.
~ David Roof
We provide services to the following cities, towns and surrounding regions of Western PA: